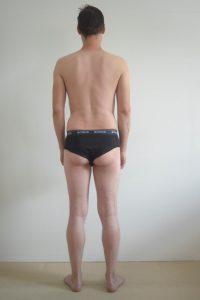 Research studies show a prevalence of anatomic short leg that may surprise you. Many of your clients have this syndrome.
"Even a minor leg length discrepancy of as little as 3 mm can make a difference" S Key.
Adding this therapy element can be a 'game-changer' with certain clients. See Short Right Leg for more information.
---
In this seminar we will learn to assess the anatomic length of both legs with the client lying supine, and also while standing.
Assessment is best done after the distortions and tensions of the pelvis have been neutralised.
The practical component involving supine and standing assessment is quite brief, but clinical judgment about Short Leg Syndrome and the reasoning involved requires explanation.
---
A 6 hr seminar relevant and useful for any therapist working physically with the human body and posture.
Therapists using remedial massage, myotherapy, Bowen, Rolfing, Alexander, shiatsu, physiotherapy, osteopathy, chiropractic, sports trainers, personal trainers, kinesiology, craniosacral etc will find this seminar stimulating and productive.
Only one leg, the right leg, is involved in 99% of cases. There is a definite pattern at play and the patterns of postural compensation are semi-predictable, enabling the therapist to anticipate and compare the presenting symptoms of their client with this template, improving treatment choices and outcomes.The relevance of gravity, postural compensation and corrective heel lift therapy are explored.
9.30am-4.30pm, Sunday February 17th 2019

$100 incl. 16 page workshop manual

CPE points

Call or text 0416 846940 or email for more information.

1/250 George St, Fitzroy